If you want to test your quiz knowledge about the GATE exam quiz or NATA exam quiz or plumbing quiz, please click the link.
---
In architecture, landscape refers to the design and planning of outdoor spaces, including gardens, parks, and other types of open areas.
Landscape architecture involves the creation of functional and aesthetically pleasing outdoor environments, taking into account the natural and built features of the site, as well as the needs and desires of the users.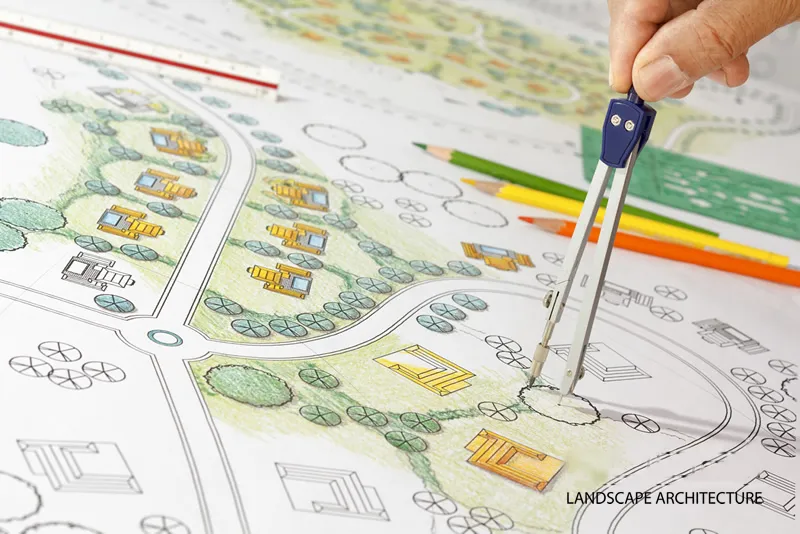 Landscape architects may work on a variety of projects, including residential gardens, public parks, commercial and institutional grounds, and urban planning and design.
Landscape architecture involves the integration of a wide range of elements, including plants, trees, shrubs, flowers, water features, walkways, seating areas, and other structures and amenities.
Landscape architects may also consider issues such as sustainability, accessibility, and environmental impacts in their designs.
---
About landscape quizzes in architecture
Landscape architecture is the design of outdoor spaces, including gardens, parks, and other natural and built environments.
It involves the creation of plans and drawings, choosing plants and materials, and overseeing the construction and maintenance of landscape features.
Some topics that might be covered in a landscape architecture quiz include:
Design principles, such as unity, balance, and proportion
Types of plants, including annuals, perennials, and shrubs
Soil types and their characteristics
Drainage and irrigation systems
Construction materials and techniques
Landscape history and famous landscape architects
Environmental considerations, such as water conservation and wildlife habitat
Landscape design software and tools
Landscape lighting and electrical systems
Landscape maintenance and care, including pruning, mulching, and pest control
Sustainable landscape design, including the use of native plants and water-saving techniques
Landscape design for special needs, such as accessibility for people with disabilities or outdoor spaces for pets
Landscape design for specific climates or regions
Landscape design for commercial or public spaces, such as schools, hospitals, or office buildings
Landscape design for residential properties, including yards, decks, and patios
---
Landscape quizzes
We have created some quizzes for architectural students that will help them to improve their knowledge.
How much do you know about Landscape quizzes?
Trends and tactics are constantly changing
Test your knowledge
---
Related video